By Keith Massey, Ph

D

. Connect with me on Google+ and Twitter. Explore my n

ovels

at Lingua Sacra Publishing.
A classic quote attributed to Cicero.
Dum spiro, spero. While I breathe, I hope. This is the essen

ce of optimism.
I've designed a line of t-shirts and other products with Latin enthusiasts in mind.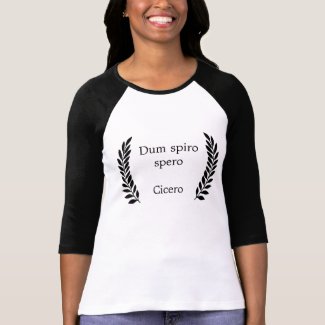 Dum spiro spero tshirts
by
keithmassey
Look at Latin T-Shirts online at
Zazzle.com
You can change the gender, size, color, and style of this product on the Zazzle site. Enjoy!
________________________________________________________________
If you're interested in Latin or ancient history, or even just an entertaining read, check out the time-t

ravel thriller

In Saecula Saeculorum. Click to learn more.
It's a bargain at 0.99 cents on Kindle (or affordably priced at $11.9

0

on paperback).
You'll travel back

to ancient Rome

on a harrowing mission to save

the modern world.

It

'

s the adventure of four lifetimes.
________________________________________________________________